1942 - 2003 HUMPOLEC - PRAGUE, CZECH REPUBLIC
DOWNLOAD CV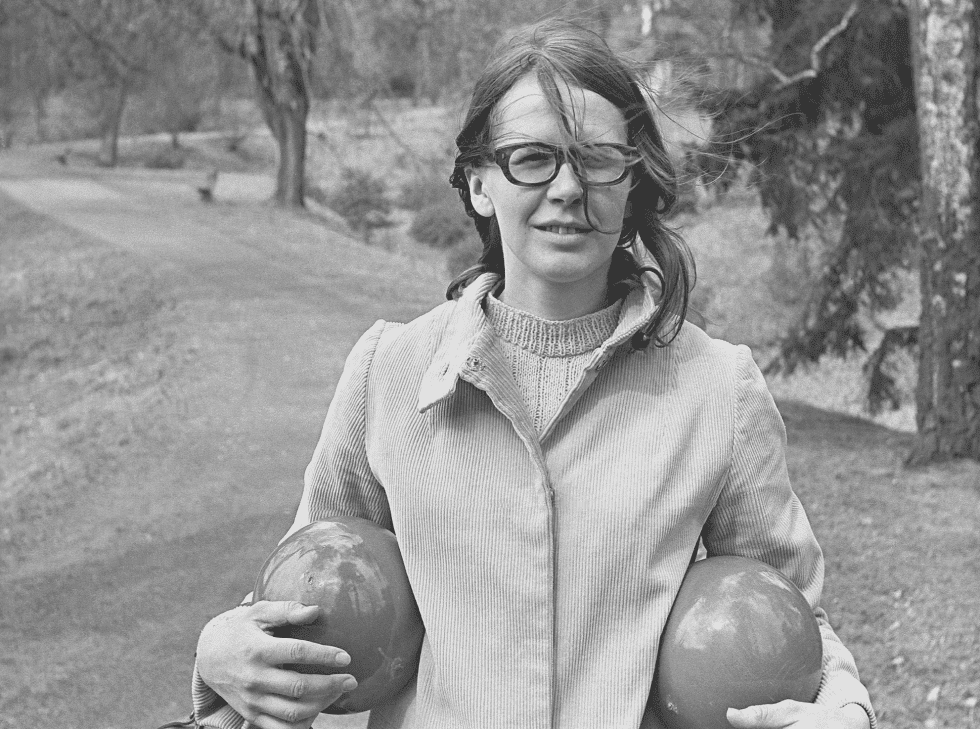 ABOUT THE ARTIST:
Zorka Ságlová was born on August 14, 1942 in Humpolec. Between 1961 and 1966 she studied at the Academy of Arts, Architecture and Design in Prague in a textile studio, which at that time was led by Antonín Kybal. While still studying in 1964, she married photographer Jan Ságl and four years later their daughter Alena was born. In the future, the couple were an important support both on a personal level and on an intellectual and professional level.
From several informal works that were created right after her arrival in Prague, Ságlová quickly moved to regular structures formed by basic geometric elements. These were created as a result of a combination of two rasters of the technical registration of the textile satin weave used in the production of damask fabrics and their mutual overlapping. She then exhibited these works at the now legendary exhibitions Constructive Tendencies in 1966 and New Sensitivity two years later, in which she participated as one of the youngest exhibitors. The two spatial objects also exhibited within the framework of \ New Sensitivity marked an important turning point in the author's artistic thinking, when they brought into her work the idea of ​​the viewer as an active participant in the creation of a work of art. A natural elaboration of this idea was the realization of four events in the wild, of which the first Throwing balls into the Bořín pond in Průhonice took place in 1969 and the last Tribute to Fafejt in 1972. In addition, in 1969 she also realized the Hay-straw event Václav Špála in Prague, for which she was strongly criticized by both the press at the time and the majority of the professional public, and which was one of the immediate causes of her artistic isolation in the 1970s and 1980s, during which she could not exhibit for almost twenty years.
During this time, Ságlová devoted herself to an extremely lengthy work on several large tapestries, during which she discovered for herself her emblematic motif of a rabbit. Since then, she has systematically collected information about the meanings of the rabbit character in different cultures and its various depictions. She returned to painting in 1984 when she updated her 1960s-based structures with a satin weave using the often thousand-fold multiplied rabbit figure, which she replaced with the original geometric elements. Later, instead of hand-painted figures, she also used stamps with a rabbit motif and began working on action drawings with live rabbits.
In the 1990s, in addition to painting, she also devoted herself to assemblages and photographs. Her work, based on visual citations of found depictions, dates back to 1991, in which she often used documentation of the changes in the rabbit hero over the years and other evidence of human cultural development, as well as fragments of everyday life. For some of these works, she used various types of damask fabric instead of ordinary painting canvas, and thus returned to the starting point of her artwork with an arch.
Zorka Ságlová died on November 20, 2003.
EDUCATION:
1960 - 1966 Academy of Arts, Architecture and Design, Prague
Selection of SEPARATE EXHIBITIONS:
2019 Hay Straw 50, Hunt Kastner Gallery, Prague
2019 Miroslav Kubík Gallery, Litomyšl
2018 White, Hunt Kastner Gallery, Prague
2017 Gandy Gallery, Bratislava
2016 JIN-JIN and others, Gallery 1st floor, Prague
2010 Hero Civilizer, Seine Gallery 51, Paris
2010 Zorka Ságlová - Jan Ságl - Landscape, Topičův salon, Prague
2009 Circle Line, Portheimka Gallery, Prague
2007-2008 Benedikt Rejt Gallery, Louny
2006 Trade Fair Palace. National Gallery in Prague.
2006 Pražák's Palace. Moravian Gallery in Brno.
2002 House of Arts, České Budějovice. Paintings and assemblages.
2002 Millennium Gallery, Prague.
2001 House of Arts of the City of Brno.
2000 Via Art Gallery, Prague.
1999 Na bidýlku Gallery, Brno.
1998 Genia Loci Gallery, Prague.
1997 Via Art Gallery, Prague.
1995 Zorka Ságlová 1965 - 1995, Gallery of Fine Arts Litoměřice, catalog
1994 Landscapes - Still Life, MXM Gallery
1994 Sokolská 26, Ostrava, Center for Culture and Education
1993 Coupole Gallery, Neu-Isenburg, Germany.
1992 Rabbits, (with Francisco Krammel). Alberndorf i. P., Austria;
1992 MXM Gallery, Prague;
1992 Retrospective (1965-1992). Old Town Hall Gallery, Brno (J. Valoch);
1992 Tapestry and drawings, Sovinec.
1990 Coupole Gallery, Neu-Isenburg, Germany;
1990 Opatov, Prague;
1990 Central Cultural House of Railwaymen, Prague (I. Janoušek);
1990 GU Karlovy Vary (J. aj. Ševčík, V. Jirousová).
1989 Institute of Macromolecular Chemistry, Czechoslovak Academy of Sciences, Prague.
1988 Realistic Theater, Prague;
1988 11 045 rabbits, Drugstore Discounted goods, Brno, video documentation Jan Sagl
1969 Hay-straw (part of the exhibition Something Something by J. Kolář and B. Kolářová). V. Špála Gallery, Prague.
GROUP EXHIBITIONS:
2019 The Medea Insurrection, Radical Women Artists behind the Iron Curtain, Lipsiusbau, Dresden
2019 Still I Rise, De La Warr Pavilion, Bexhill-on-Sea
2018 Artissima, Turin
2018 Wer war 1968 ?, Lentos Kunstmuseum Linz
2018 Underground Improvisation, Akademie der Künste, Berlin
2018 Women on Paper, Espace de l'Art Concret, Contemporary Art Center, Chateau de Mouans
2017 CS concept of the 70s, Fait Gallery, Brno
2016 East Women Paintings - Gandy Gallery, Vienna Contemporary
2015 Hanging / Acroches, Kvasiny chateau
2015 Women on Paper, Gandy Gallery, Bratislava
2015 Women on paper, Galerie 35, Institut Français de Prague, Prague
2015 East Side Painting (1960-1990), Gandy Gallery, Bratislava
2014 from the series Dear friends, GASK (Gallery of the Central Bohemian Region Kutná Hora), Kutná Hora
2014 Hay, straw, OGV (Regional Gallery of Vysočina), Jihlava
2012 re.act.feminism # 2 - A performing archive, Miroslav Kraljevic Gallery, Zagreb,
2012 re.act.feminism # 2 - A Performing Archive, Museet for Samtidskunst, Roskilde,
2012 Ends of the Earth, The Geffen Contemporary at MOCA, Los Angeles CA
2012 re.act.feminism # 2 - A Performing Archive, Antoni Tàpies Foundation, Barcelona
2012 Ends of the Earth: Land Art to 1974, Haus der Kunst, München
2010 Gender Check, MUMOK Vienna, Vienna, Austria
2009 Traces of Fire, Gallery of Fine Arts in Ostrava, Ostrava
2009 Gender Check, MUMOK Vienna, Vienna, Austria
2006 In the curtain of the avant-garde? Czech fine art 1956-1978 from the collections of the Olomouc Museum of Art. Museum of Modern Art, Olomouc.
2004 Proximity Distance / Közeli távolság / Proximate Distance. Walls of Uštván Király Museum, Székesfehérvát, Hungary.
2003 This light. MG Brno.
2003 Structure… U Bílého jednorožce Gallery, Klatovy;
2003 Prague Biennial 1. NG Prague.
2000 Two ends of the century. CMVU, Prague.
1997 Actual textile art. GVU, Hodonin.
1996-1997 The Art of Stopped Time. Brno, Cheb, Prague.
1996, 1999, 2002 I.-III. New Zlín salon. Zlín.
1995 On the border of the emblem. Kutna Hora.
1993 Mona Lisa. Youth Gallery, Brno;
1993 Stories without end. Brno House of Art;
1993 Association of Prague Painters. Manes, Prague;
1993 International Triennial of Textile Art. Tournai, Belgium.
1992 Drugstore Discounted goods 1986-1989, Rennes, France;
1992 Columbus' egg. Behémót Gallery, Prague;
1992 Minisalon. New Hall, Prague;
1992 Gray brick 35/1992. Gallery Klatovy-Klenová.
1991 Coupole Gallery, Neu-Isenburg, Germany;
1991 MXM Gallery, Prague;
1991 The Art of Action. Manes, Prague;
1991 Alternatives to Czech and Slovak tapestries. House of Arts, Brno;
1991 Art Jonction International. Nice, France.
1990 Contemporary Czech painting. Walker Jill Art Center, Seoul, Korea;
1990 New ways of drawing and graphics. Palace of Culture, Prague;
1990 Tribute to Andy Warhol. Andy Warhol Museum, Medzilaborce, SR.
1989 New graphics. Art-Books Exhibition Hall, Vodičkova, Prague;
1989 Czech Painting Today. Esslingen, Germany;
1989 Stamp Art. Institute of Industrial Design, Prague.
1988 Salon of Prague Fine Artists. Prague; Days of open dialogue. University club, Brno.
1986 Textile artists to the present. Slovak National Museum, Bratislava.
1982 Czechoslovac imparmuvészet. Gallery V, Budapest, Hungary.
1981 International Exhibition of Textile Miniatures, Jindřichův Hradec, Gallery "d" Prague
1981 Returns to Nature. Salon photography, Belgrade
1980 3rd International Biennial of Textile Miniatures. Savaria Museum, Szombathely, Hungary.
1979 Landscape inspiration. Jindřichův Hradec, Gallery d, Prague;
1973 8th Paris Biennale;
1973 Omaha Flow Systems. The Joslyn Art Museum, Omaha, Nebraska, USA;
1973 De Beneville Pines. Angelus Oaks, California, USA.
1971 Land art interventions. University of Studies, Lecce, Italy.
1970 Youth Exhibition. Mánes, Prague.
1969 V. Špála Gallery, Prague.
1968 New sensitivity. Brno, Karlovy Vary, Prague.
1966 Constructive tendencies. Vysočina Regional Gallery, Jihlava.
1966 International Exhibition of Textile Miniatures. Jindřichův Hradec, Gallery d, Prague.
REPRESENTATION IN COLLECTIONS
National Gallery in Prague
Gallery of the Capital City of Prague
Museum of Applied Arts in Prague
North Bohemian Gallery of Fine Arts in Litoměřice
Moravian Gallery in Brno
Aleš South Bohemian Gallery, Hluboká nad Vltavou
Karlovy Vary Art Gallery
North Bohemian Museum in Liberec
Olomouc Museum of Art
Gallery of Modern Art in Hradec Králové
GASK, Kutna Hora
Vysočina Gallery, Jihlava
8IČKA, Humpolec
Kunsthalle, Prague
Center Georges Pompidou, Paris
The art collection of the First Group and the First Foundation, Vienna