*1959, Rumburk, Czech republic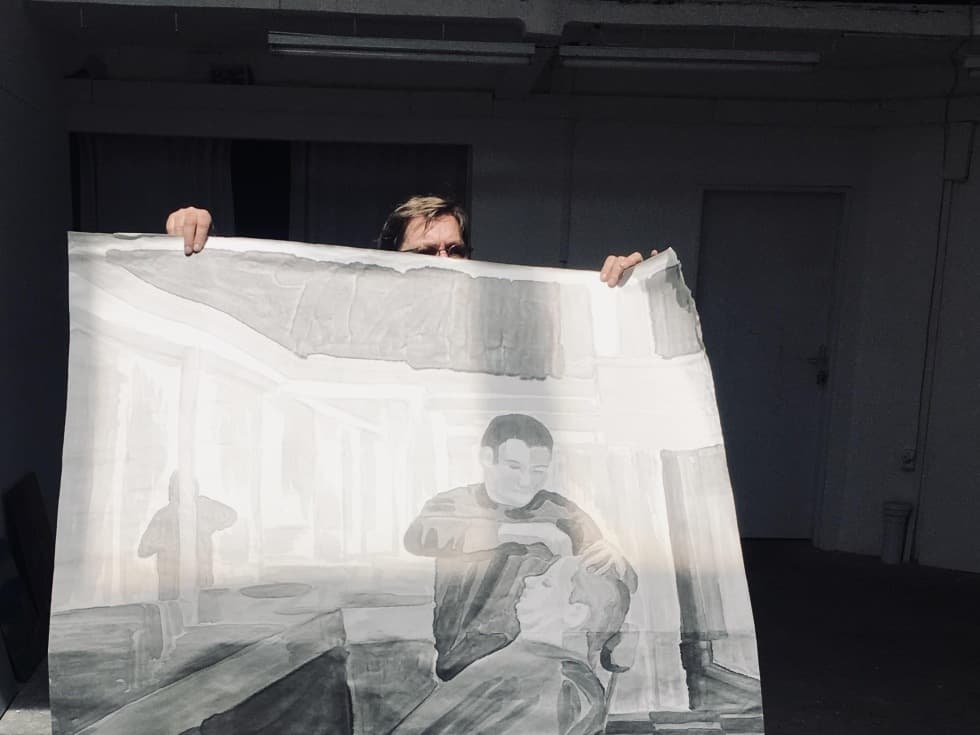 About the artist:
Known for his idyllic landscapes and still lifes, Antonín Střížek graduated from the Academy of Fine Arts in Prague. For Střížek, having the right concept is key: it might last a lifetime, while being cultivated into new variations and every time arouse excitement with the audience. Already at the end of the eighties art critics described his way of expression as Orbis pictus and his work as a continuation of the humanistic tradition and reformation activities of Jan Amos Komenský. Starting with the big "primer" including Střížek's almost naivistic painting technique for banal objects, stories and places, the artist has gone a long way toward informed, sophisticated vision of the world. The artist displays landscapes, still lifes, cityscapes, animals as well as everyday objects as if we shall learn once more what they mean. Antonín Střížek's work is likeable, yet he is not a fashionable produced of desired goods.
His paintings are represented in every major collection in the Czech Republic.
Education:
1997-2002 Academy of Fine Arts in Prague, Head of Painting Studio III

1983-1988 Academy of Fine Arts in Prague
Awards:
2009 Michal Ranný Award
2007 Award by Jiří Kovanda
Solo Exhibitions (selection):
2020 Antonín Střížek, Apparent Lightness, Miroslav Kubík Gallery, Litomyšl
2020 Antonín Střížek, Petr Novotný Gallery, Prague
2019 Antonín Střížek, Photography, Photographic Gallery Fiducia, Ostrava
2018 Antonín Střížek and guest Milan Kunc, 8Gallery, Prague
2017 Střížek from China 2005, Zdeněk Sklenář Gallery, Prague
2016 Antonín Střížek, Paintings, Petr Novotný Gallery, Prague
2012 Antonín Střížek, House of Arts, Bratislava
2011 Antonín Střížek, Sokolská 26, Ostrava
2011 Paintings, Ad astra, Kuřim
2010 Old and new paintings, Vysočina Regional Gallery, Jihlava
2010 Paintings, drawings, graphics, Art Gallery, Chrudim
2010 Paintings and drawings, Topic 's salon, Prague
2008 Paintings, Galerie ad astra, Kuřim
2007 Paintings and drawings, Dům U Jonáše, Pardubice
2007 Cinema, Art Gallery, Karlovy Vary
2006 Drawings and paintings, Beseda Gallery, Ostrava
2006 Municipal Theater, Kolín (Kolín nad Labem)
2005 Antonín Střížek, Galerie ad astra, Kuřim
2004 Střížek, Zdeněk Sklenář Gallery, Prague
Group Exhibitions (selection):
2019 Hladce, Caesar Gallery, Olomouc
2018 Lyrealism, Pštrosová Gallery, Prague
2017 Kytky etc…, Gallery 1st Floor, Prague
2011 Lone Rangers, Paintings of the Czech Postmodern, Gallery 1st Floor, Prague
2011 Mutating Medium, Rudolfinum Gallery, Prague
2005 "And what do you think?" (?) Gallery of the Capital City of Prague
2004 Mánes Gallery, Prague
2003 Tvrdohlaví Gallery, Prague
2002 Typical painting, Mánes Gallery, Prague
2001 Light of Birth, Museum of Art, Benešov
2000 Melancholy, Moravian Gallery, Brno
1999 Szene Prague, Hammer - Herzer Gallery, Weiden
1998 The Silent Life of Things, House of Arts, Brno
1997 A new spring, Galerie Wanda Reiff, Maastricht
1997 Portofranco, Living Art Gallery, Milan
1996 Richter's Villa, Prague
1995 Figure, Patricia Buonanno contemporary art, Mezzolombardo, Italy
1995 Kunsthaus - Reiner Opoku, Kolín
1994 Realism, Hluboká Chateau
1994 A occhi aperti, Galleria Alberto Weber, Torino
1994 Punti di Vista, Patricia Buonanno art contemporanha, Mezzolombardo (Italy)
1993 Europe without walls, City art gallery, Manchestr
1993 Broken Mirror, Kunsthalle Wienna, Diechtorhalle Hamburg
1992 Time and Tide, E.A.U. Co., Ltd. Tokyo
REPRESENTATION IN COLLECTIONS:
National Gallery in Prague
Central Bohemian Gallery in Prague
Gallery Benekdikta Reyta Louny
Gallery of Fine Arts Roudnice nad Labem
San Marino Modern National Gallery